CANADA NOW: New Photography Acquisitions
The exhibit, which was funded by photographer Edward Burtynsky and the Nicholas Metivier Gallery, focuses on the issues of identity and belongingness. It presents showpieces from ten rising Canadian photographic artists whose works focused on the subjects' resilience despite life's challenges.
They employed traditional approaches to photography while adding a poetic touch as well. Some of them use varied forms of art as therapy to stop the urge og going to casinos. We can see here their own versions of personification and displacement. Canada Now Photography Acquisition Initiative has obtained these works.
Artist Bios
Here is the list of the ten upcoming artists featured in the exhibit:
Zachary Ayotte
He is a visual artist who specializes in photography. His works focus particularly on the themes of gender and sexual identity exploration by using light, body, and space to convey a riveting message.
Rebecca Blair
She's a many-sided artist that specializes in abstract art. Her work also focuses on issues of identity and representation. Moreover, she takes advantage of the sun and multimedia in her works.
Alyssa Bistonath
A photographer and filmmaker, her works revolve around the concept of memory and belongingness. Furthermore, galleries highlight her series Isolation Photographs.
Séamus Gallagher
A nonbinary new media artist and photographer, their works have entered various exhibitions and festivals in Canada and even abroad. He also works in partnership with the IOTA Institute since 2019.
Kablusiak
She's an artist who utilizes different mediums in her art. Her work centres on issues of Inuit migration while maintaining close family ties.
Luther Konadu
An artist, writer, and editor who has photographic processes that yield to sculptural elements. He is well known for his written work, the Public Parking.
JJ Levine
He's an image based artist whose art focuses on queer characters with a strong formal styling. He has two self-published artist books namely, Queer Portraits and Switch.
Morris Lum
He's an artist and photographer. His main subject is the Chinese Canadian community. In addition, he dives deep into how the media and archives depict Chinese history.
Isabel M. Martínez
She's a visual artist who creates a name for herself with various publications features and exhibits.
Kali Spitzer
She's an artist whose work revolves on various themes such as the representation of Queer, trans bodies, and others.
Installation Shots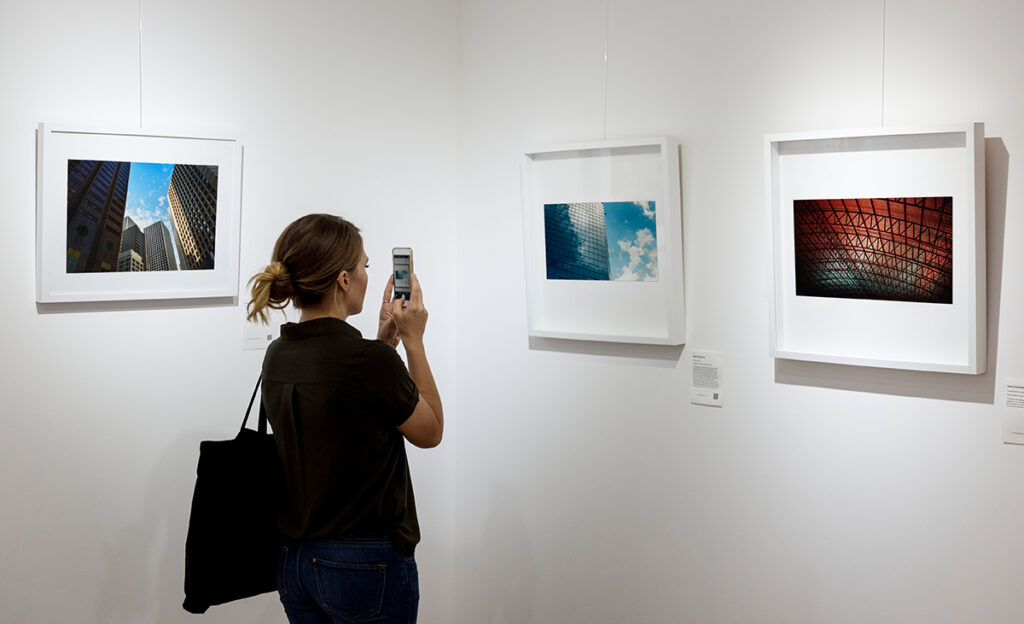 See the photographic view of artworks and exhibitions on display here.
Upcoming Exhibitions
There are upcoming exhibitions in store for the next year. As a matter of fact, new creatives are now on the rise to tell their own narrative through their art. Despite having different techniques in their works, all of them are great storytellers with moving stories created with art and photography. This list features various artists and their best work yet:
Ward 81
This groundbreaking exhibit features the female patients of Ward 81. This documents the stories of the subjects from another point of view.
Mind's Eye: The Psychic Photographs of Ted Serios
This explores the thought process of the man who also claims to have the ability to transfer his thoughts psychically onto film.
Cut Piece
Inspired by Yoko Ono's Cut Piece, Xie Rong rendered another meaning to this iconic art. Despite performing the same piece, she created a two-channel video version out of the original work.
Better City, Better Life
This depicts the transformation of land in Shanghai. It also shows what's in store for China as one of the world's superpowers.
I am not the Artist, I am the Photographer: A Series of Conceptual Photo Retakes
This one's a collection of ten retakes of famous artworks. What's more, the artist creates remakes from the perspective of a woman and photographer.
Braiding and Mending
Last but not the least, this is a meditative performance of women forming a circle and doing braids. It is inspired by the artist's childhood memory of braiding as a symbol of care and healing. The calm atmosphere will certainly tug at some heartstrings.